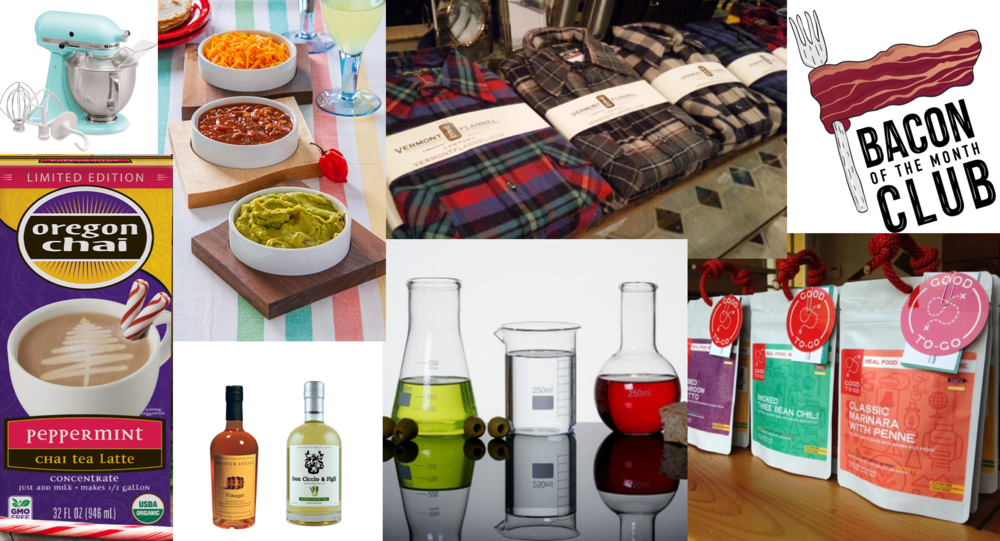 If we have a passion for anything here at Skillet, it's good food and the great outdoors! In this year's gift guide, our incredible Design Team has compiled a list of their holiday must-haves for the foodie or adventurer in your life. 
~ Psst…Click on the GIFT (in orange) for a quick link to the product site ~
---
Maddie (Graphic Designer & Project Manager)
KitchenAid Stand Mixer
I absolutely love this mixer. I use it for baking cakes and cookies, whipping up icing or homemade whipped cream, or even mixing up homemade burgers. It's so versatile! And, it's beautiful too; it has a permanent place on my countertop.
Ever since working in a Coffee Shop when I was in high school; I've been obsessed with Oregon Chai. During the cold, chilly days of winter, I make myself a hot Chai Latte with either Almond or Soy milk. It warms me right up. And just in time for the holidays – they released a peppermint flavor!
Classic Recipe:
1 part Chai : 1 Part Milk
Enjoy either iced or hot!
I live in these flannels all year round, but especially in winter. I have one that I wear out and about, and one that I only wear at home. Buffalo Plaid is my favorite pattern, but I love these flannels the most because of how soft they are. You can't beat it! Hiking, biking, camping, or just being cozy; they are perfect.
---
Kevin (Art Director)
JK Adams Mettowee Collection (specifically the MET-TRIO)
This is the time of year for dipping… cheese dip, salsa, guacamole, french onion dip, roast beef au jus dip, buffalo chicken dip, spinach artichoke dip, pico de gallo, hummus, etc. The MET-TRIO allows everyone at the table to pull their favorite dips or side dish closer to them for maximum consumability
Because bacon is awesome. The bacon of the month club is especially awesome because you get 2lbs of specialty bacon, 2 different varieties each month, allowing you to try everything from Citrus-Infused bacon to Jalapeño bacon to Bloody Mary bacon – need I say more? 
Good To-Go (meals for adventurous)
These meals are a great gift for any friend/family member who are loves to go hiking/camping. The company was created by Jennifer Scism, Iron Chef winner, who wanted to make quick meals on the trails that actually taste good. Currently they come in 3 varieties: Classic Marinara with Penne, Thai Curry, and Smoked Three Bean Chili.
---
Rachael (Senior Graphic Designer)
Chemistry Set
My grandmother used to say that cooking is 60 percent science and 40 percent art. These chemistry themed measuring cups just make the science better to look at.
Aged for six months and made from a particularly delicious Rose, this vinegar has a complex and bright flavor that adds a special touch to salad dressings, barbecue sauces and my  persona favorite, raisin pie.
Old-Fashioned Raisin Pie
2 Cups Raisins
2 Cups Water
1/2 Cup Packed brown sugar
2 Tbsp. Cornstarch
1/2 Tsp. Cinnamon
1/4 Tsp. Salt
1 Tbsp. Rose vinegar
1 Tbsp. Butter or margarine
Pastry for double 9-inch crust
Combine raisins and water; boil 5 minutes. Blend sugar, cornstarch, cinnamon and salt. Add to raisins and cook, stirring until clear. Remove from heat. Stir in vinegar and butter. Cool slightly. Turn into pastry-lined pan. Cover with top pastry or lattice strips. Bake at 425ºF about 30 minutes or until golden brown.
Yield: 1 9-inch pie
Fennel Liquor
Lightly sweet and perfect for holiday cocktails that need that extra twist.
2 oz Fennel Liquor
1 oz vermouth
1 oz lemon juice
1/4 cup fennel bulb/stem coarsely chopped. try not to get the frond in it.
3 orange slices + 1 for garnish
1 oz simple syrup. (we use the 50/50 sugar/water recipe. just mix them in a jar and shake until dissolved)
**should you desire an alcohol free drink, omit the booze and add 3 oz soda water
Combine gin, vermouth, fennel and orange slices in cocktail shaker.  Muddle ingredients.  Add lemon juice and simple syrup, shake and strain into glass with fresh ice. Garnish with fennel stem (make sure the fronds do not hang into cocktail) and 1/2 an orange slice.  Enjoy!