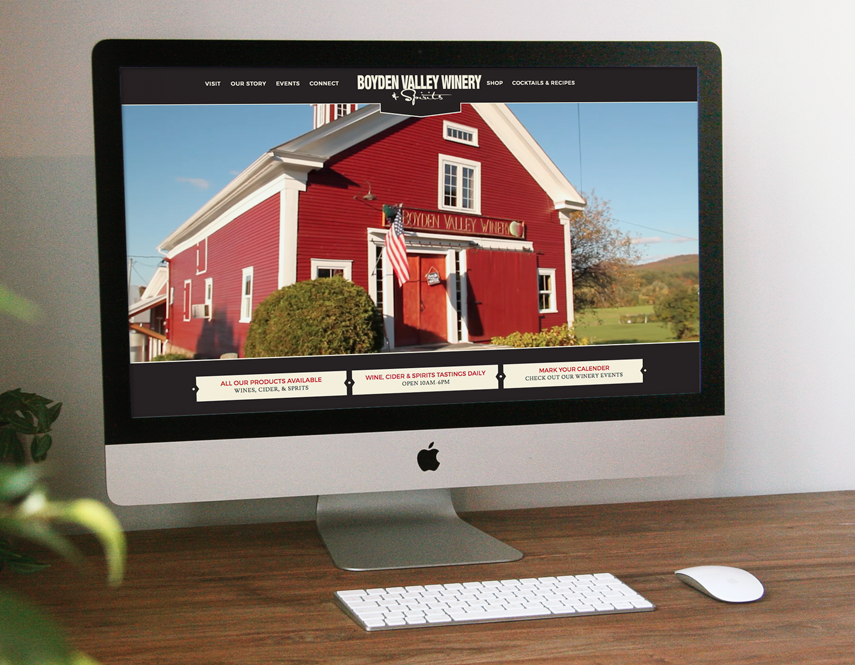 Over the last few months, the Skillet team has been diligently designing and developing the new Boyden Valley Winery website. This project brought us to their beautiful and historical winery in Cambridge, Vermont – where we admired views of the countryside, sampled fine wines and ciders, tried maple liquor coffee for the first time (approved) and collaborated with the BVW on this exciting next step in digital.
Through the update of their website, Boyden Valley Winery wanted to communicate the history, wine-making process, and dedication to creating a one-of-a kind blend that makes their products so unique. In addition, we wanted to showcase the other family businesses under the Boyden name: Boyden Beef, Boyden Maple Syrup, and the Boyden Wedding Barn. This updated website wasn't only going to paint a more beautiful and accurate picture of who they are, but it would provide improved functionality, accessibility and user friendliness. The new site also has an upgraded e-commerce functionality so that customers can easily purchase their favorite wines or spirits with the click of a button.

To create this classic, yet modern look; our design team decided on a rich color palette of burgundy, cream and black while cean lines, timeless typefaces and beautiful imagery round out the design. These tones tie back directly to taste, strength and the colors of their products. In an effort to incorporate as much imagery as possible, we were able to focus on highlighting the unique aesthetic of their historic winery. A new video on the homepage also creates the feeling of a traditional, family friendly establishment that not only welcomes visitors but celebrates them like old friends.
Learning more about the wine-making process, the history of the Boyden family in Vermont and seeing the dedication they've kept in sustaining old-world techniques in Vermont were perks to working on this project. Although, seeing the BVW brand and website come to life, after so much hard work and creative energy, was the best toast we could ask for… Cheers!