On occasion, our work isn't always about food and beverage design, sometimes we veer a little off the specialty food path to help out a local organization. Over the past four years, at no charge, we've provided design and content support for a parent teacher organization (PTO) that works with three schools in our area: Essex Elementary School, Founders Memorial School and Essex Middle School.
The work has included a variety of projects from social media graphics, event posters, press releases, and most recently logo and t-shirt design for a new Fun Run fundraiser. In addition to designing the Fun Run logo, pledge packets, banner, t-shirts, and digital graphics, Skillet Creative was also the headlining sponsor for each of the events—and we were in pretty good company with other sponsors such as Reinhart Foodservice and Select Design.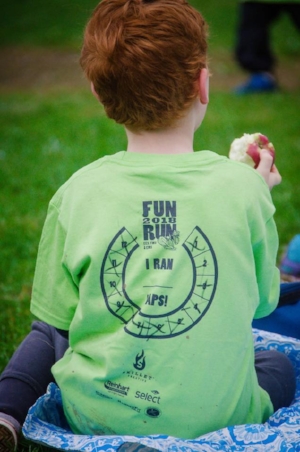 For three Fridays in a row, we cheered on students as they ran, walk, skipped, and sometimes sprinted around a track to help raise money for their schools. The funding goes to annual Enrichment Grants which support programs at each school. A few examples of programs that have been funded include summer reading programs, family math events, family reading events, visiting authors, fine arts night, Farm2School, and even Jr. Iron Chef teams (see there's the food connection!)
We couldn't be prouder of the outstanding efforts by each student and all of us a Skillet Creative feel very fortunate to be part of an incredible educational community.