Check out the hot sauce line up for Hot Ones Season 7 and you'll find Skillet Creative client, Butterfly Bakery's Maple Wood Smoked Onion Hot Sauce. Super popular and James Beard Award-winning online magazine, First We Feast focuses on food, drink and pop culture. One of their most watched YouTube series, Hot Ones includes a wide range of celebrities being interviewed by host Sean Evans while they eat progressively spicier chicken wings. The show's tagline sums it up nicely, "The show with hot questions, and even hotter wings."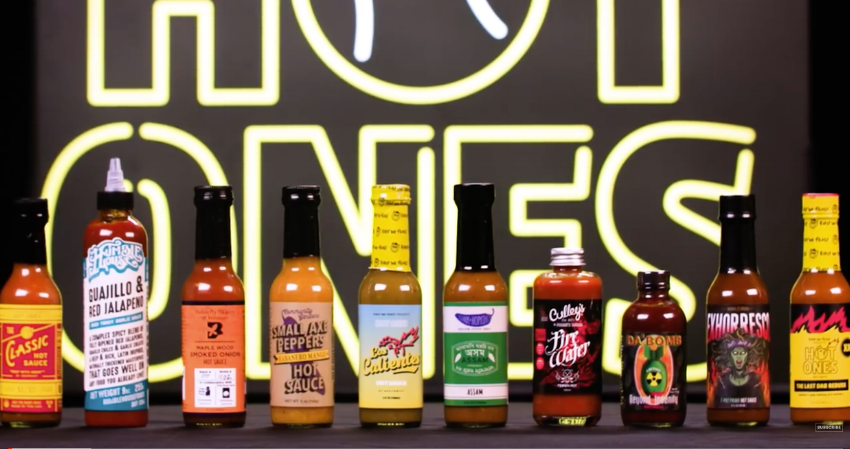 Skillet Client, Butterfly Bakery's Hot Sauces Featured in Season 7 of Hot Ones.
Evans says the season 7 line up is the "NBA draft of hot sauces," as he describes each hot sauce and their unique flavor attributes. Calling Butterfly Bakery's hot sauce one of the most interesting flavor profiles ever on the show thanks to maple wood smoke onions.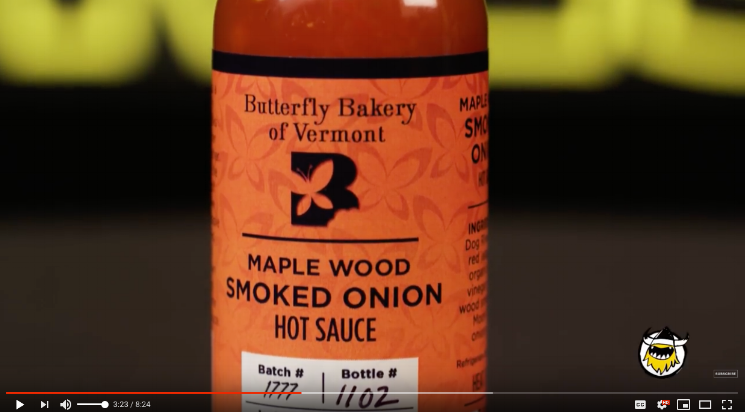 Butterfly Bakery came to Skillet Creative a few years ago to evolve their hot sauce labels. Owner Claire Georges questioned if the vertical orientation of their old labels was working or if that layout was challenging for consumers and less effective on the shelf.
In addition, Georges wanted to find a better way to incorporate into the labels the flavor partnerships with other local producers and brewers. Each hot sauce is made in small batches, so developing a system to communicate the handmade element on the labels was also key when redesigning.

Skillet Creative created two concepts for consideration, one that included an evolved version of the vertical format and a second option that changed the orientation and placed the unique collaborations and small-batch elements on the front. Georges felt the second layout was the best option, so we continued to fine tune that label and carry it across the entire hot sauce line.
As Hot Ones host, Sean Evans pointed out, "this is a farm-to-table label." Soon after the hot sauce label was updated, the design was also applied to Georges' other products including her line of mustards.
As the company and product line continued to grow, Skillet helped Butterfly Bakery to a badge that could quickly communicate the full product offerings, including granola, cookies, mustard, and the hot sauces.
Georges had intentions of pairing the hot sauces with a pint glass or bottle opener for gift merchandise. We can only imagine that being featured on Hot Ones Season 7 will create more demand not only for Butterfly Bakery's hot sauces but also their cool schwag. Way to go Claire!
If you are considering evolving your label or creating new merchandise for your brand, let's connect. We'd love to learn about your company and your vision for growth.