We love a good food trend list at Skillet Creative. As we close in on the end of 2018, the food trend predictions start pouring in for 2019. Working in the specialty food and beverage industry gives us an inside glimpse into what trends may be staying center plate in the new year. Here's our take on the food trends that we hope are going to be here to stay.

#1 Functional Foods.   
There has always been a direct link between what you eat and your health, but it seems that now many Americans are not only keeping an eye on what they eat but how that food can benefit their overall well-being. In 2019, a trend-topper will be foods that are functional as well as nutritious. We think you'll see foods in the new year being added to shopping carts that can sustain you longer, aid in digestion, give you extra energy, as well as provide key nutrients.
Ever since ingredient attention shifted to more gluten-free products a few years ago, consumers are focusing more on products that aid in digestion. Gut-healthy foods will be making headlines in 2019 as kombuchas, probiotics, goat's milk products (look for Skillet client Grazing Goat Dairy drinkable yogurts), and apple cider vinegars become more prominent in mainstream grocery stores.
#2 Hold the Alcohol with Creative Mocktails.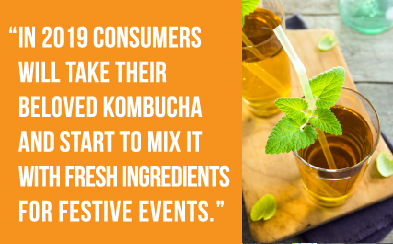 This might be the category where two trends can meet: mocktail + functional foods. In 2019 consumers will take their beloved kombucha—good for gut-health—and start to mix it with fresh ingredients for festive events. Sparkling Cranberry Kombucha Mocktail or Kombucha Mojitos.
Creative cocktail syrups are also helping to make mocktails even more appealing to consumers. Look for Elderflower Tonic (from the Jack Rudy Cocktail Co.) or Pink & Black (by Owl's Brew) which combines Darjeeling tea, hibiscus, lemon peel, strawberry, and agave into one. Add a bit of lemon juice and club soda and you're ready to celebrate.
What's next on our Food Trends 2019 list? Plant-Based Foods, Cannabis-Infused Foods and Alternative Sugars. Look for more information on those trend toppers on December 20.